Announcement
The museum will be closed on the following holidays: Thanksgiving Day, Christmas Eve, Christmas Day, and New Year's Day.
Please note, the Pine Gallery will be closed November 27 through December 7. The museum will be closed January 8 through February 1 for exhibition changeover.
Hours
Monday Closed
Tuesday 10AM - 5PM
Wednesday 10AM - 5PM
Thursday 10AM - 5PM
Friday 10AM - 8PM
Saturday 10AM - 5PM
Sunday 12PM - 5PM
Admission
Admission is always free; donations are welcome.
Our Values
Learning
Empathy
Diversity
Respect
Stewardship
Our Mission
The Fralin Museum of Art at the University of Virginia encourages the spirit of curiosity and promotes diversity of thought through the study, care, and celebration of art.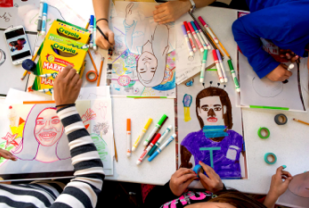 Fralin for Families...
Bring the children in your life early and often! Research shows that early exposure to the arts supports children's ability to articulate what they see and experience in a work of art, and leads to appreciation and enjoyment of the arts in adulthood.