Three Voices: A Poetry Reading and Conversation with Lauren Alleyne, Irène Mathieu and Valencia Robin
Starts on 10/10/2019 - 6:00pm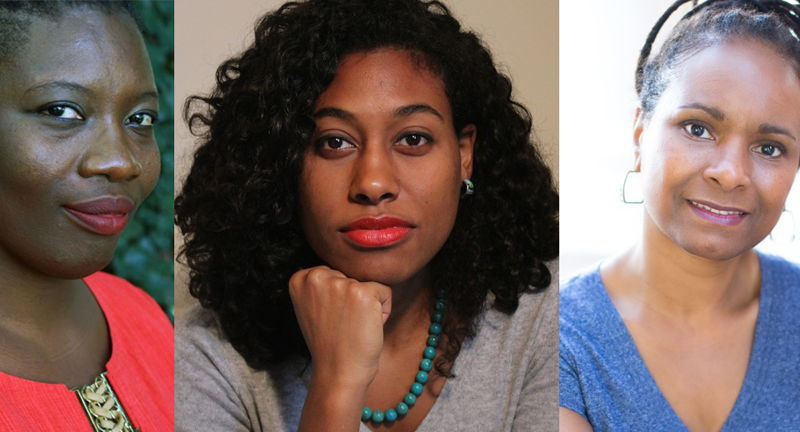 @The Fralin Museum of Art at UVA
Venue Address: 155 Rugby Road, Charlottesville VA 22903
RSVP to museumoutreach@virginia.edu
Dr. Irène P. Mathieu is a pediatrician and writer at the University of Virginia. She is the author of Grand Marronage (Switchback Books, 2019), which was selected as Editor's Choice for the Gatewood Prize and runner-up for the Cave Canem/Northwestern book prize; orogeny (Trembling Pillow Press, 2017), which won the Bob Kaufman Book Prize; and the galaxy of origins (dancing girl press, 2014). Her poems have appeared in American Poetry Review, Narrative, Boston Review, Southern Humanities Review, Callaloo, TriQuarterly, and elsewhere. Irène is on the editorial boards of Muzzle Magazine and the Journal of General Internal Medicine's humanities section. A member of the Jack Jones Literary Arts speakers' bureau, she has received fellowships from Fulbright, Callaloo, and the Virginia Center for the Creative Arts.
Lauren K. Alleyne is the author of two collections of poetry, Difficult Fruit (Peepal Tree Press 2014), and Honeyfish (New Issues & Peepal Tree, 2019). Her work has appeared in numerous publications including The Atlantic, Ms. Muse, Women's Studies Quarterly, Interviewing the Caribbean, The Crab Orchard Review, among many others. Recent honors for her work include a 2017 Phillip Freund Alumni Prize for Excellence in Publishing (Cornell University), the 2016 Split This Rock Poetry Prize, and a Picador Guest Professorship in Literature (University of Leipzig, Germany, 2015). She is currently Assistant Director of the Furious Flower Poetry Center and an Associate Professor of English at James Madison University. Find out more about her at www.laurenkalleyne.com.
Valencia Robin is a poet and painter. Her first collection of poems, Ridiculous Light, won Persea Books' 2018 Lexi Rudnitsky First Book Prize. A Cave Canem Fellow and a cofounder of GalleryDAAS at the University of Michigan, her poetry has appeared in the New York Times, The St. Petersburg Review, TriQuarterly, Black Renaissance Noire, The Cortland Review and elsewhere. Honors for her work include the Hocking Hills Festival of Poetry Prize, the Poe/Faulkner Fellowship, the King-Chavez-Parks Initiative Fellowship and the Margaret Towsley Fellowship. Robin holds an MFA in Creative Writing from the University of Virginia and an MFA in Art & Design from the University of Michigan. Learn more about her at www.valenciarobin.com.
For more info: